Golden Rod Feeder Championship 2 day Final, Saturday 19th & Sunday 20th March 2022
With the 21 national qualifiers now completed, the 64 finalists arrived here at Larford Lakes for the 2 day Grand Final, fished both on the Specimen and Match Lakes.
Anglers rotated between both lakes on a points scoring two day final.
So for example, if the Match Lake was drawn on day 1, the angler would then face the Specimen Lake on day 2.
In the event of a points tie, the results would then be decided by overall weight.
Prior to the two days final practice matches had produced some stunning weights and the Friday open produced multiple 200 & 300 lbs weights.
Conditions however for the weekend of the final were far from ideal with a strong easterly wind, very high air pressure, a hard early morning frost and clear and sunny conditions.
With the high pressure and worst wind direction, weights were hit hard to say the least.
Day 1
Match Lake
Top weight on day 1 on the Match Lake went to Prezmek Solski who drew fancied peg 32 which was the end peg on the Burr bank.
Prezmek fished a small hybrid feeder and waffter hook baits tight to his bank edges, recording a weight of 129-11-0 of carp and F1's which won his section comfortably.
Match Lake Section winner day 1
Section A Pezmek Solski 129-11-0
Section B Ryan Wilson 56-13-0
Section C Tom Scholey 124-8-0
Specimen Lake
Top weight on the Specimen Lake on Day 1 was Jon Wake who drew end peg 1 on the Specimen Burr.
Jon fished a hybrid feeder at distance with waffter hook baits, landing 114-5-0 of carp and bream.
Specimen Lake Section winners Day 1
Section A Jon Wake 114-5-0
Section B Nick Speed 59-2-0
Section C Martin Tayloe 74-10-0
Day 2
Match Lake
With high pressure and easterly winds continuing plus a severe overnight frost weights tumbled for day 2.
Overall the Match Lake winner was Steve Curtis from peg 19 on the Match Burr bank.
Steve weighed in 66-11-0 of carp and F1's all caught on the hybrid feeder and waffter short.
Match Lake Section winners Day 2
Section A Nick Speed 48-14-0
Section B Geoff Wiseman 40-5-0
Section C Steve Curtis 66-11-0
Specimen Lake
Alex Walker was top weight on the Specimen Lake for day 2 with a weight of 55-10-0 from end peg 16 on the Burr bank.
Alex cast long with hybrid feeder and later down his edge to record 55-10-0 of carp and bream, all caught on waffter hook baits.
Specimen Lake day 2 section winners
Section A Joe Jagger 46-5-0
Section B Mick Bull 44-4-0
Section C Alex Walker 55-10-0
So, with the 2 day final completed, the top 10 was decided by 3 clear point scores followed by 7 anglers reverting to overall weight.
Winner overall with the only perfect score of 2 points was Nick Speed who collected the trophy and the title of Golden Rod Champion 2022.
Nick collected a massive £10,000 cheque.
Second overall was Tom Scholey with an overall 3 point score, collecting the runner up position and a cheque for £6000.
Third placed Ryan Wilson secured third placed with a 4 point total collecting £4000
Overall, a great event which could have gone anyway on day 2 keeping all the finalists in it right up to the final whistle.
All 64 finalist should be proud of their achievement reaching the final itself against many top flight anglers who fished all the qualification rounds across the country over the 21 rounds between October 2021 & March 2022.
A big well done to Nick Speed, Golden Rod Feeder Champion 2022.
Tickets for the 2022 /23 round will go on sale Tuesday 3rd May 6pm.
To book your tickets log onto Golden Reel Feeder Championship and secure your tickets online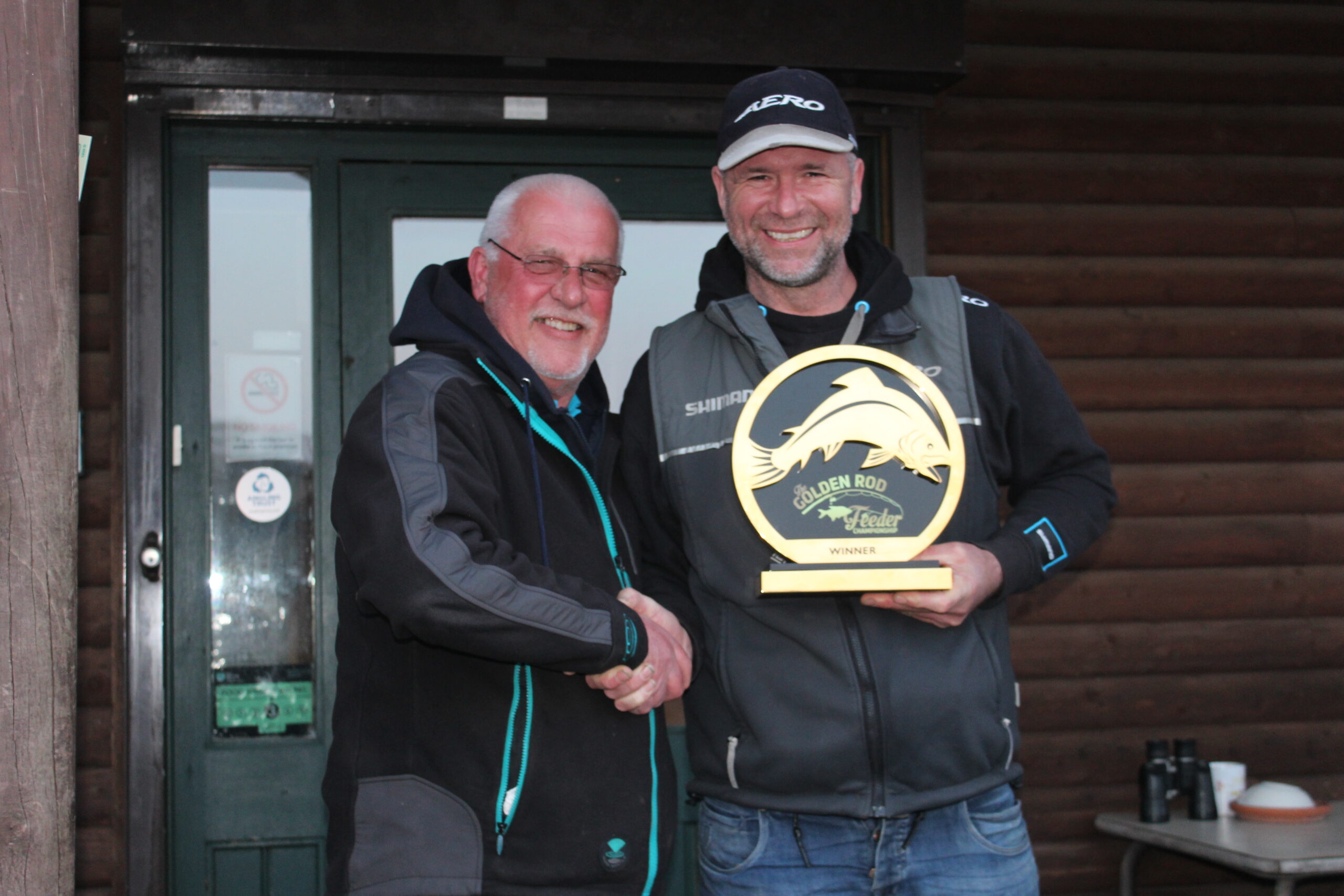 Golden Rod Feeder Champion 2021/22
Nick Speed
| | | | |
| --- | --- | --- | --- |
| 1st | Nick Speed | 2 Points | £10,000 |
| 2nd | Tom Scholey | 3 Points | £6,000 |
| 3rd | Jon Wake | 4 Points | £4,000 |
| 4th | Ryan Wilson | 5 Points (88-15-0) | £3,000 |
| 5th | Andy Crocker | 5 Points (67-3-0) | £2,000 |
| 6th | Prezmek Solski | 6 Points (146-1-0) | £1,500 |
| 7th | Steve Fotheringham | 6 Points (102-7-0) | £1,000 |
| 8th | Stu Fotheringham | 6 Points (87-13-0) | £600 |
| 9th | Les Marshall | 7 Points (135-14-0) | £400 |
| 10th | Martin Tayloe | 7 Points (85-11-0 | £300 |
| | | |
| --- | --- | --- |
| 11th | Darren Cox | 7 Points (69-8-0) |
| 12th | Joe Jagger | 7 Points (64-12-0) |
| 13th | Vic Molyneux | 7 Points(60-10-0) |
| 14th | Rob Twardeowski | 7 Points (50-13-0) |
| 15th | Andy Power | 7 Points (47-14-0) |
| 16th | Martin Harrell | 8 Points (86-8-0) |
| 17th | Simon Skelton | 8 Points ( 77-15-0) |
| 18th | Rob Coombs | 8 Points (40-10-0) |
| 19th | Paul Cook | 9 Points (70-8-0) |
| 20th | Alex Walker | 9 points (69-2-0) |
| 21st | Nick Owen | 9 Points (66-11-0) |
| 22nd | Lee Jepson | 9 Points (57-3-0) |
| 23rd | Geoff Wiseman | 9 Points (54-2-0) |
| 24th | Dale Shepherd | 9 points (48-13-0) |
| 25th | Steve Curtis | 10 Points (83-13-0) |
| 26th | Rob Wooton | 10 Points (81-2-0) |
| 27th | Baz Byrd | 10 Points (56-0-0) |
| 28th | Pete Eastwood | 10 Points (47-0-0) |
| 29th | George Parker | 10 Points (44-13-0) |
| 30th | Tony Morris | 10 Points (39-0-0) |
| 31st | Mick Bull | 11 Points (73-9-0) |
| 32nd | Danny Wilson | 11 Points (69-4-0) |
| 33rd | Brett Clarke | 11 Points (45-11-0) |
| 34th | Charlie Simpson | 12 Points (62-6-0) |
| 35th | Andy Mundell | 12 Points (57-7-0) |
| 36th | Dean Barlow | 12 Points (44-7-0) |
| 37th | Janis Soldaks | 12 Points (39-2-0) |
| 38th | Rob Burgwin | 12 Points (26-15-0 |
| 39th | Jamie Snedker | 13 Points (90-6-0) |
| 40th | Andy Kinder | 13 Points (69-14-0) |
| 41st | Geoff McCauley | 13 Points (57-11-0) |
| 42nd | Neil McKinnon | 13 Points (30-1-0) |
| 43rd | Wayne Shepherd | 13 Points (28-0-0) |
| 44th | Steve Brindley | 14 Points |
| 45th | Ian Smith | 15 Points (71-3-0) |
| 46th | Steve Ringer | 15 Points (33-11-0) |
| 47th | Allan Guilding | 15 Points (32-8-0) |
| 48th | Phil Canning | 15 Points (25-8-0) |
| 49th | Dan Hook | 16 Points (56-5-0) |
| 50th | Phil Ringer | 16 Points (27-4-0) |
| 51st | Craig Tideswell | 16 Points (22-0-0) |
| 52nd | Richard Lawson | 17 Points (52-6-0) |
| 53rd | Mark Storey | 17 Points (45-13-0) |
| 54th | Oliver Scotthorne | 17 Points (29-11-0) |
| 55th | Marivs Gregatis | 18 Points (32-4-0) |
| 56th | Ian Croxton | 18 Points (27-1-0) |
| 57th | Lee Hall | 18 Points (27-1-0) |
| 58th | Garry Swaine | 18 Points (25-13-0) |
| 59th | Ade Link | 19 Points (21-9-0) |
| 60th | Kioran Rich | 19 Points (17-10-0) |
| 61st | Dave Berry | 19 Points (12-4-0) |
| 62nd | Mac Duke | 20 Points |
| 63rd | Irek Wlazlo | 21 Points |
| 64th | Andy Fry | 22 Points |